Fashion illustration is a unique and captivating art form that merges creativity with the world of style and couture. It serves as a bridge between the runway and the canvas, where artists bring fashion to life through their distinctive visual interpretations. In the ever-evolving world of fashion, there are illustrators who stand out with their exceptional talent and contributions. Our school has carefully selected and celebrated the top 10 fashion illustrators of the world, whose work continues to inspire and captivate us.
Stanislav Senchuk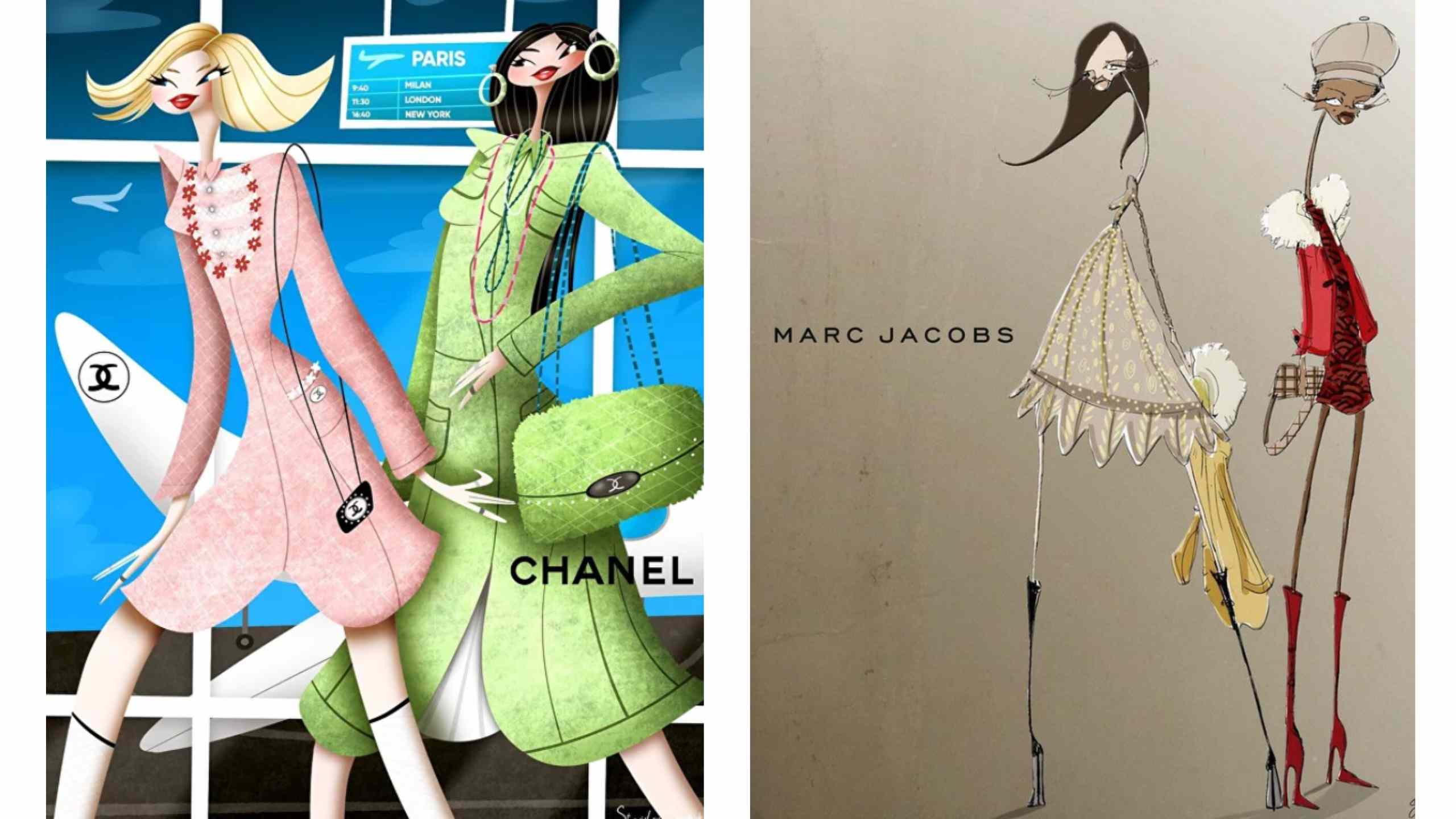 Stanislav Senchuk, a distinguished fashion illustrator hailing from Ukraine, has left an indelible mark on the industry with his extraordinary talent and artistic finesse. With an impressive portfolio that speaks volumes about his creativity, Stanislav has collaborated with renowned brands including NUDESTIX, Pepsi, Puma, Lays, REKKEN, and Haribo Promo.

His work has garnered international acclaim, catching the discerning eye of prestigious fashion publications such as British Vogue and L`Officiel UA. Stanislav's illustrations transcend the boundaries of conventional fashion art, adding a unique and captivating dimension to his visual storytelling.
Enroll in a fashion illustration course led by Stanislav
Notably, his artistic prowess has been recognized and embraced by leading fashion houses, with brands like Marc Jacobs, Nina Ricci, and Moschino featuring his illustrations. Stanislav's ability to seamlessly blend his distinctive style with the essence of each brand has established him as a sought-after talent in the dynamic world of fashion illustration.
As a creative force making waves both locally and globally, Stanislav Senchuk continues to push the boundaries of fashion illustration, leaving an indelible imprint on the visual narrative of the industry.
Josephine Rais
Josephine Rais, a talented illustrator based in Berlin, is a rising star in the world of design, and her impact is already being felt in the fashion industry. A recent graduate, Josephine has swiftly become a name to watch with her impressive work for esteemed brands such as Fendi, Nike, and Stylist.

Her illustrations are a testament to her unique artistic vision, bringing familiar scenes and vibrant characters to life with a refreshing and undeniably cool aesthetic. Josephine's work breathes youthfulness and freshness into the fashion landscape, capturing the zeitgeist with an innovative blend of style and substance.

In a short span, Josephine Rais has proven that her creativity knows no bounds. Her illustrations not only showcase technical proficiency but also a keen understanding of contemporary trends and cultural nuances. As she continues to carve her niche in the industry, Josephine's contributions are sure to shape the visual narrative of fashion, infusing it with her distinctive blend of sophistication and youthful exuberance. Watch out for this emerging talent as she leaves an indelible mark on the canvas of fashion illustration.
Max Edward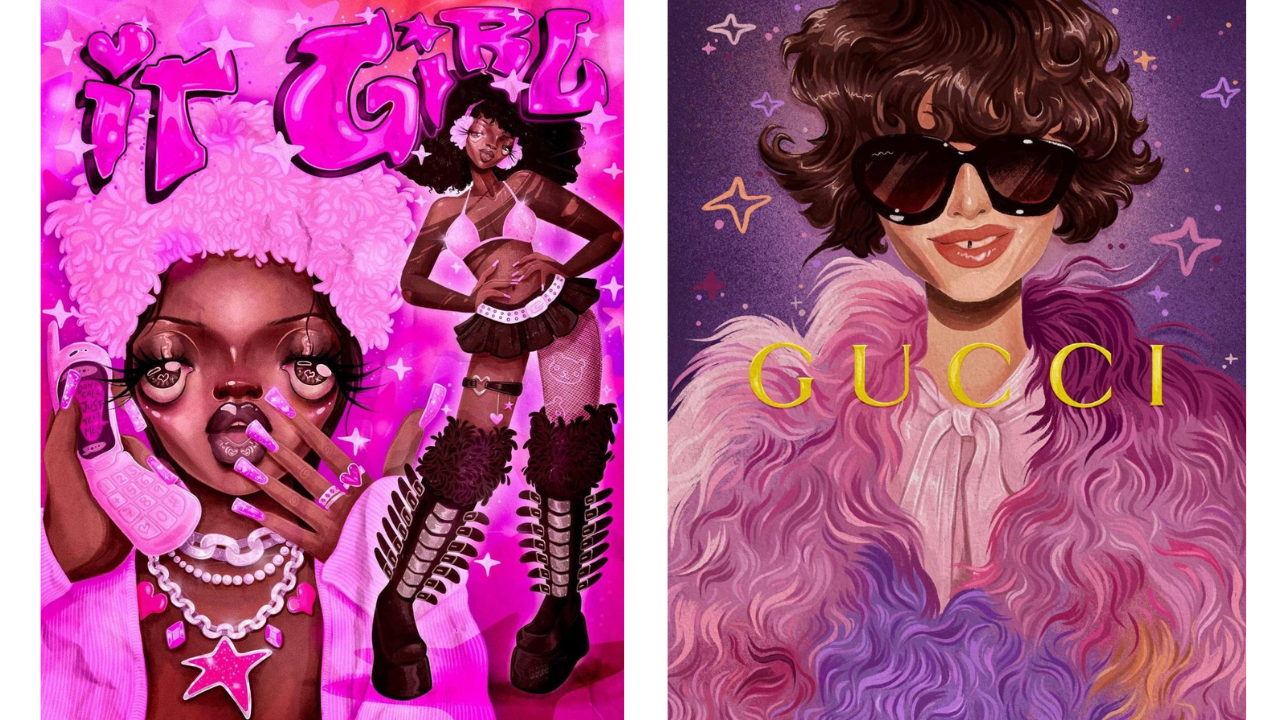 Max Edward, an illustrator based in London, stands out for his distinctive artistic style. His work is characterized by a maximalist and indulgent hyper-feminine approach to fashion and portraiture illustration. In each piece, Max skillfully blends intricate details with vibrant colors, creating visually stunning compositions that captivate the viewer.

One of the defining features of Max's portfolio is his intentional focus on queer culture and inclusivity. Through his illustrations, he not only celebrates the richness and diversity of queer experiences but also strives to promote a sense of belonging and representation within the art world. Max Edward's commitment to inclusivity is evident in the way he weaves narratives of empowerment, self-expression, and identity into his work.

Max's artistic journey is a testament to his passion for pushing boundaries and challenging conventional norms. He seamlessly incorporates elements of fashion, culture, and individuality into his illustrations, creating a visual language that speaks to the complexities and beauty of the human experience.

As Max Edward continues to evolve as an illustrator, his work serves as a vibrant tapestry that reflects the kaleidoscope of emotions, identities, and styles present in the world. Through his hyper-feminine aesthetic and unwavering commitment to inclusivity, Max Edward is making a significant contribution to the contemporary art scene, leaving an indelible mark on the intersection of fashion, portraiture, and queer culture.
Olga Khomich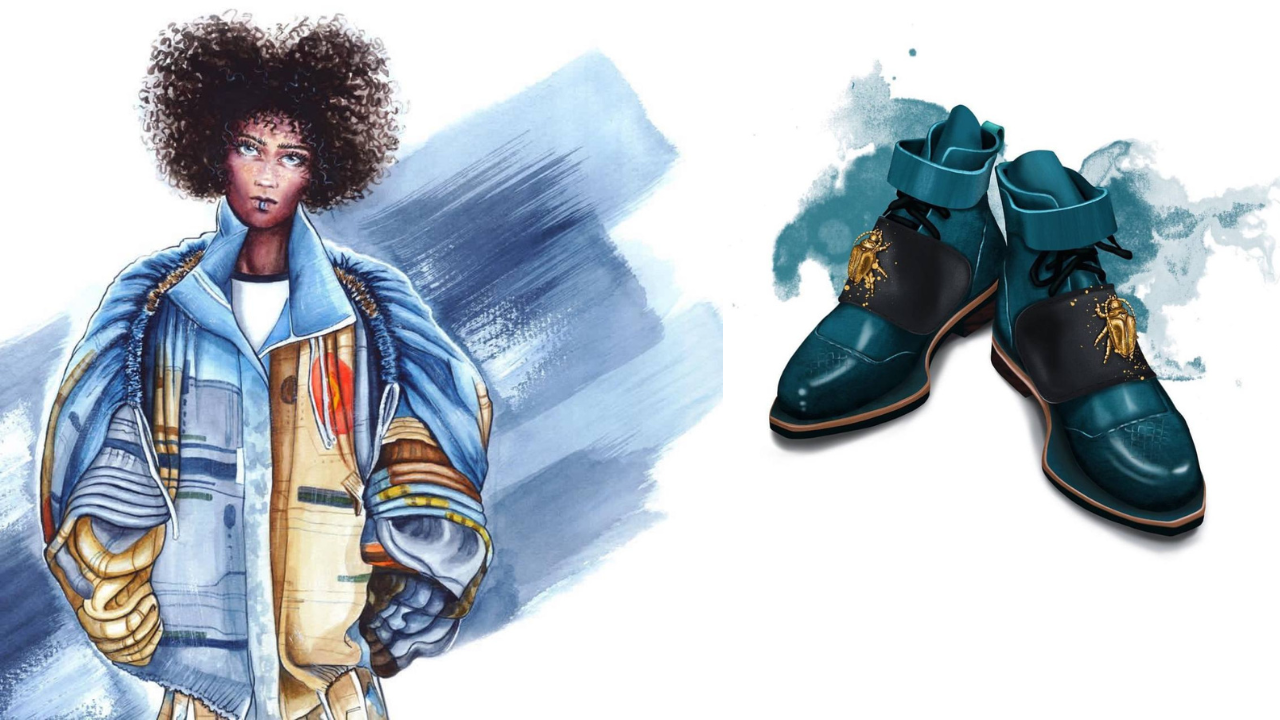 Olga Khomich, a Ukrainian artist based in Frankfurt, found her calling in the world of fashion illustration. Her journey began with a childhood fascination ignited by Cruella Deville's costumes in a cartoon. The allure of furs draped over one shoulder and adorned with feathers sparked a passion that propelled her into the world of drawing. From that point on, Olga filled albums and notebooks with her fashion sketches, even transforming ordinary paper into grids to conceptualize shoe designs in each cell.
Enroll in a fashion illustration course led by Olga.
As her interest deepened, Olga delved into fashion magazines, redrawing and reimagining the garments within to suit her unique style. Initially aspiring to become a fashion designer, she eventually discovered that her true love lay in the act of drawing itself. Despite starting her career as a makeup artist—where she contributed to creating images, costumes, hats, and masks—it was the sketching process that brought her the utmost joy.

Olga's path led her to the realization that her heart belonged to illustration. She embarked on a journey of artistic education, formalizing her skills at the academy, and is currently furthering her studies at the university. Despite her achievements, Olga remains dedicated to the pursuit of knowledge, recognizing that the beauty of creativity lies in the continuous process of learning. As she returns to university, Olga Khomich continues to chase her dream, fueled by an unyielding passion for art and an unwavering commitment to evolving as an illustrator. Her story exemplifies the profound and enduring love for the artistic journey.


Taylor Ramsie
Taylor Ramsie, an introverted Aries hailing from Baltimore, Maryland, brings a unique perspective and passion to the world of fashion illustration.

At the core of Taylor's creative philosophy is a commitment to designing and creating for those on a journey toward self-confidence. She focuses on individuals who often find themselves underrepresented in art and fashion, striving to provide a platform for them to feel seen, understood, and express themselves through their clothing.

Taylor's work is not merely about aesthetics; it's a narrative—a story that she shares to connect with others and help them discover their own light and beauty. Her philosophy revolves around exploration and challenging societal standards, especially those related to body image and attitudes towards them. With each illustration and design, Taylor questions the norm, aiming to contribute to a much-needed change in representation within the fashion industry.

She firmly believes that clothing is for all bodies, emphasizing that every body deserves to be adorned. Taylor Ramsie aspires to be a catalyst for this change, challenging traditional notions of fashion and pushing for a more inclusive and diverse industry.

As an artist, Taylor allows her energy to flow through her work, creating a profound connection between her soul, mind, and emotions. For Taylor, everything is interconnected—a sentiment that undoubtedly resonates in the vibrant and meaningful tapestry of her illustrations and designs.

In the evolving landscape of fashion illustration, Taylor Ramsie emerges not just as an artist but as an advocate for change, representation, and the belief that fashion should embrace and celebrate the diversity of all bodies.
Katherine Pashegor
Meet Katherine Pashegor, a Ukrainian fashion illustrator based in Frankfurt, whose passion for fashion and drawing ignited in her early years. In childhood, Katherine meticulously collected pictures and illustrations from her grandmother's magazines, creating a cherished folder that marked the beginning of her artistic journey.

Her natural inclination toward the creative led Katherine to pursue a profession in the field. She is not only a costume designer for theater and cinema but also a fashion designer. Despite not finding immense joy in sewing, Katherine discovered her true love lay in painting, drawing, and adorning costumes with captivating sketches for characters and images.
Enroll in a fashion illustration course led by Katherine.
Driven by the goal of bringing beauty to the world, Katherine's illustrations have garnered attention from renowned brands like Moschino, Schiaparelli, and Givenchy. Her artistic prowess extends to the pages of prestigious publications, including Vogue and L'Officiel. Katherine Pashegor's work is a testament to her commitment to infusing the world with beauty through the lens of fashion illustration.
Samuel Harrison
Samuel Harrison, an artist and illustrator based in London, channels his artistic prowess into the realms of beauty and fashion. Grounded in a love for pencil drawing, Harrison's monochromatic style captures attention through exaggerated fabric compositions, bold makeup details, and striking poses.

A graduate in Fine Art from both Central Saint Martins and the Chelsea College of Art, Harrison's journey led him to become a contributing illustrator for SHOWstudio in 2016. His artistic footprint expanded through projects like Style Shoot Draw with Nick Knight and Garage Magazine, along with exhibitions like Fashion Flora and Drawings from the Archive.

Harrison's portfolio boasts collaborations with renowned names, including Vogue, Harper's Bazaar, Adobe, Paypal, and Ryman. His partnership with Instagram, featured in the #FashionIllustrated series, celebrated his process videos. In 2022, three of Harrison's illustrations adorned the Hubei Institute of Fine Arts in China, further solidifying his global influence. His online content for brands like Adobe and Paypal continues to showcase his exceptional talent and unique perspective in the world of fashion illustration.
Nadenka Kulyasha
Enter the world of fashion illustration with Nadenka Kulyasha, a Ukrainian artist known for her realistic approach. Her journey into fashion began in childhood, drawing inspiration from her mother's magazines and crafting entire collections for her Barbie dolls, complete with imaginative fashion shows.
Grateful for her mother's support, Nadenka's passion for drawing seamlessly merged with her love for fashion. She fondly remembers her mother's contributions, buying the pencils, threads, and fabrics that fueled her creative pursuits. Today, Nadenka continues to indulge in what she loves most, creating captivating fashion illustrations with a realistic flair.
Enroll in a fashion portrait course led by Nadenka.
Beyond her personal artistry, Nadenka extends her passion to the next generation. As an artist and teacher, she imparts her love for fashion illustration to her students, fostering creativity and sharing the joy of bringing designs to life on paper. Nadenka Kulyasha's artistic journey is not only a testament to her talent but also a celebration of the enduring influence of childhood dreams and the support that nurtures them.
Manjit Thapp
Manjit Thapp is a talented and unique illustrator who has made a name for herself with her distinct artistic style. Her work is a delightful blend of traditional and contemporary media, and it often takes the form of colorful, wordless comics that both entertain and intrigue viewers.

One of the hallmarks of Manjit Thapp's art is her deep appreciation for the pencil as a primary tool of her trade. This traditional medium allows her to create intricate and visually captivating illustrations that stand out in a world increasingly dominated by digital art.

Notably, Manjit Thapp has been commissioned to design book covers for several well-known works. Her book cover designs, including those for Gillian Flynn's 'Gone Girl' and Elizabeth Gaskell's 'The Life of Charlotte Bronte,' showcase her ability to capture the essence of a story and convey it through her visual art.

To keep her creative process fresh and dynamic, Manjit Thapp continually seeks inspiration from a variety of sources, frequently scanning the internet for captivating images and drawing energy from music. This dedication to staying inspired and engaged with her craft contributes to the uniqueness of her work.
Amy Eléna Nash
Amy Elena Nash is a highly talented freelance fashion illustrator originally from France and currently based in the vibrant city of London. Her artistic expertise extends across various domains, including advertising, publishing, and fashion surface pattern design.

Amy's commitment to her craft is evident in her educational journey, which includes a Master's in Illustration from the prestigious University of the Arts London (2020-2021). Prior to that, she honed her skills at Norwich University of the Arts, earning a Bachelor of Arts with Honors in Illustration (2017-2020).

As a freelance illustrator, Amy Elena Nash seamlessly weaves her creative vision into diverse projects. Her work not only reflects a deep understanding of fashion dynamics but also exhibits a unique style that captivates audiences across different industries. Amy's presence in London, a global hub for creativity, undoubtedly influences and inspires her artistic endeavors, contributing to the richness and dynamism of her illustrations.